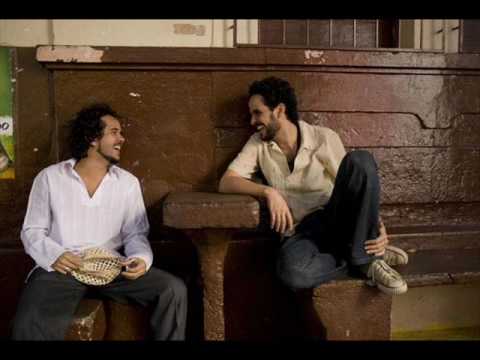 While most of the young sambistas use references to times long gone, our friends of Dois Do Samba, in spite of playing sambas with traditional influences and structures, composed this heart breaking song, with references to current realities like cell phones and relationship sites.
Chamada Restrita
Dois do Samba

Deletei teu nome do meu celular
não precisei de isqueiro
nem de fósforo pra queimar

A mensagem que você mandou
sem fumaça nem cinzas apagou,
desapareceu,
com o aperto de um botão,
sumiram todas pelo ar

Nossa história de amor
que nunca aconteceu
eu já tô dando um jeito
de arrumar outro alguém
pra pôr no lugar que foi teu,
de mais ninguém

Meu celular não tem defeito,
não me deixa na mão
(é mesmo, compadre?)
me avisa quem é que liga,
se eu quiser, não atendo não

('podicrê')

Não adianta insistir,
não precisa nem telefonar
que você eu nem atendo
cansei do seu reclamar

Pode buscar,
Pode buscar em lista pública ou particular,
nas Amarelas ou na Telemar
nem no Orkut você vai me achar

Pode buscar,
Pode buscar com os amigos em qualquer lugar
Põe detetive pra me vigiar
que eu mudei de emprego, de casa, de rumo
e frequento outro bar.

Unknown Caller
Dois do Samba

I deleted your name from my cell phone
I didn't need a lighter
or matches to burn it

The message you sent
without smoke or ashes got deleted,
disappeared,
with the push of a button,
they all vanished in the air

Our love story
that never happened
I'm already finding a way1
to find someone else
to put in the place that was yours,
no one else's

My cell phone doesn't have flaws,
doesn't let me down
(is that so, bro?)
it lets me know who calls,
if I wish to, I don't answer

(right on)

There is no point in insisting,
you don't even need to call
I won't answer you
I got tired of your complaining

You can seek,
You can seek in public or private listings
in the Yellow Pages or Telemar2
not even in Orkut3 you will find me

You can seek,
You can seek among friends anywhere
Put a detective to watch me
I've changed jobs, homes, direction
and now I hang out at another bar.
(1) Dar um jeito: Popular colloquial expression that means to find a way (do to something), to figure it out, to find a solution to a problem. It is related to "jeitinho brasileiro", a complex Brazilian cultural trait.
(2) Telemar is the largest telecommunications telephone company in Brazil.
(3) Orkut is a social network owned and operated by Google. For years, Orkut was the dominant social networking website in Brazil. Visit Wikipedia to learn more about jeitinho: http://goo.gl/RQnWz
Street Smart Brazil offers Portuguese classes and intercultural coaching for individuals and organizations. Learn Portuguese from anywhere in the world with our one-on-one, live webcam classes.
Contact us to request your 30-minute free demo lesson via webcam today!