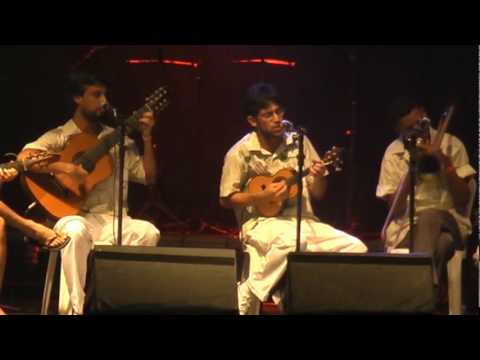 Pouca Chinfra is a samba combo from Recife, and we are great fans of their music.
Their lyrics frequently are about the fragility of the man's heart when facing a strong, independent or in this instance, a bohemian type woman.
Fingimento
Pouca Chinfra

Você finge até chora
Joga conversa fora
Diz que vai se redimir

Bebendo toda hora,
Jogando a vida fora
Sem rumo por aí

Toda noite em claro
cachaça*, fumo, baralho
Embriagada de ilusão

Mas não tem mais jeito,
eu já desfiz o feito
Saravei* meu coração

Vou cuidar de mim
Esquecer talvez ,
caio mais nessa não

Já dei conta do recado,
mas não tive apreço
Mereço ao menos versos de amor

Porque carinho nunca é de menos
E os teus seios tão pequenos
Na minha boca viram flor

Depois me deixe em paz
Vai cultuar teus deuses ,
Teus amigos e fregueses
Depois me deixe em paz

Porque esse fingimento
não conhece esse meu lamento (2X)

Não convence um só momento, fingimento

Pretense
Pouca Chinfra

You pretend even cry
You shoot the breeze
You say you're going to make amends

Drinking all the time,
Wasting your life
Aimless out there

Pulling all-nighters every night
Cachaça, smoke, card games
Drunk in illusion

But it's hopeless,
I've already undone the deed
I've protected2 my heart

I'm going to take care of myself
Maybe forget,
I won't fall for this anymore

I've delivered the goods,
but got no appreciation
I deserve at least love verses

Because affection is never too little
And your breasts so small
In my mouth become flower

Then leave me alone
Go worship your gods,
Your friends and clients,
Then leave me alone

Because this pretense
doesn't know my lament (2X)

It doesn't convince me for one instant,
pretense
(*1) Cachaça is a Brazilian liquor made from fermented sugar cane juice. It is the most popular distilled alcoholic beverage in Brazil. Street vendors selling cachaça and lemonade are a common beach scene in Brazil. Visit our blog to learn how to make caipirinha, Brazil's most popular cocktail.
(*2) Saravá: Learners of Portuguese quickly become acquainted with the word Axé, used as a positive greeting wishing good energy to friends. Saravá can be used the same way. The term is used in African-Brazilian religions as a mantra and means: SA-(Strength, Lord); RA-(To Reign, Movement); VÁ (Nature, Energy). Used as a mantra it is believed to fix or dispel negative vibrations. In the song, it was used as a verb in the past tense.
Street Smart Brazil offers Portuguese classes and intercultural coaching for individuals and organizations. Learn Portuguese from anywhere in the world with our one-on-one, live webcam classes.
Contact us to request your 30-minute free demo lesson via webcam today!