From CAS 313 Street Smart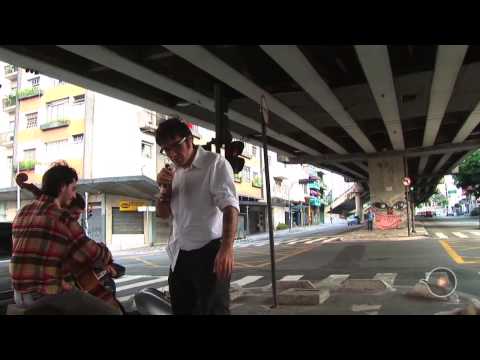 Tudo que Eu Sempre Sonhei | Everything I've Ever Dreamed
By Pullovers
Sempre pensei que aconteceria,
de criança acreditava nos adultos que era só pagar pra ver.
Feio, meio assim desconfiado,
perna em xis, já barrigudo,
duvidando que eu conseguisse crescer,
mesmo assim, contudo,
o tempo foi passando
e eu fui adiando, mudo,
os grandes dias que ia conhecer.
Quem sabe amanhã? Próximo ano?
Cebolinha com seus planos
infalíveis ia me ensinar a ser
forte, corajoso, bom de bola,
um dos bonitos da escola
muito embora eu não fizesse questão.Ainda bem que eu sou brasileiro,
tão teimoso, esperançoso,
orgulhoso de ser pentacampeão,
já que se eu fosse americano
pegaria uma pistola
e a cabeça ia perder a razão:
mataria quinze na escola,
estouraria a caixola
e apareceria na televisão.
Por fim cresci, de insulto em insulto
eu me vi como um adulto,
culto, pronto pra o que mesmo? Já nem sei.
Olho e não encontro,
penso se não fui um tonto
de acreditar no conto do vigário
que escutei.
Não tem carro me esperando,
não tem mesa reservada,
só uma piada sem graça de português.
Não tem vinho nem champanhe ou taça, só um dedo de cachaça
e um troco magro todo fim de mês.
Tudo que eu sempre sonhei
Tanto que eu consegui
É tão bom estar aqui
Quanto ainda está por vir
Mas bobagem, quanta amargura,
eu já sei que a vida é dura,
agora é pura questão de se acostumar.
Basta ter coragem e finura
e o jogo de cintura
aprendido dia a dia, bar em bar.
Pra que reclamar se tem conhaque,
se na tevê tem um craque
e o meu Timão só entra pra ganhar?
Pra que imitar Chico Buarque,
pra que querer ser um mártir
se faz parte do momento se entregar?
E por fim tem até namorada,
bonitinha, educada,
séria, tudo o que mamãe vive a pedir.
Tem beijinho e também trepada
e a consciência pesada
a cada nova vontadinha que surgir
de outra mulher, de liberdade,
de um amor de verdade,
de poder fechar os olhos e sorrir,
pensando que então, dali pra frente,
seja qual for tua idade,
o melhor ainda vai estar por vir!
Tudo o que eu sempre sonhei
Tanto que eu consegui
É tão bom estar aqui
Quanto ainda está por vir
Tudo que eu sempre sonhei.
Tanto que eu consegui
É tão bom estar aqui
Eu sei.
I've always thought it would happen,
From childhood I believed in adults
That you just needed to take your chances and things would happen.
Ugly, kind of suspicious,
knock knees, already paunchydoubting I would be able to grow
even so, however, time passed
and I kept putting off, mute,
the great days that I would get to know.
Maybe tomorrow? Next year?
Cebolinha1 with his infallible plans
would teach me to be
strong, brave, good at soccer,
one of the handsome boys at school
although I didn't care that much.
Glad I'm Brazilian,
so stubborn, hopeful,
proud to be five times World Cup champion,
since if I were American
I'd pick up a pistol
and lose my mind:
I'd kill fifteen at school,
blow my head off
and appear on television.
And finally I grew up, from insult to insult
I saw myself as an adult,
cultured, ready for what really? I don't even know anymore.
I look and cannot find,
I wonder if I wasn't a fool
to believe in the fraud
that I heard.
There is no car waiting for me,
there is no table reserved,
just a bad joke about the Portuguese2.
There is no wine, champagne or flute, only a tad of cachaça3
and meager change every month end.
All I've ever dreamed of
This much I managed to achieve
It's so good to be here
So much is yet to come
But never mind, so much bitterness,
I already know that life is hard,
now it's just a matter of getting used to it.
All you need is courage and manners and tact
learned day by day, from bar to bar.
Why complain if there is brandy,
if there is a soccer star on TV,
and my great team always plays to win?
Why mimic Chico Buarque4,
why desire to be a martyr
if letting go is part of the moment?Finally there's even a girlfriend
cute, polite,
serious, everything Mom is always asking for.
There are kisses and also screws
and a heavy conscience
with every new desire that arises
for another woman, for freedom,
for true love,
for being able to close your eyes and smile,
thinking that now, from then on,
whatever your age
the best is yet to come!

All I've ever dreamed of
This much I managed to achieve
It's so good to be here
So much is yet to come
All I've ever dreamed of
This much I managed to achieve
It's so good to be here
I know.
(1) Cebolinha is a Brazilian comic book character by Maurício de Sousa, creator of Turma da Mônica (Monica's Gang). Cebolinha means small onion in Portuguese. In the English version his name is Jimmy Five because of his hair which has only five strands. Cebolinha cannot pronounce the sound of the letter R in Portuguese and replaces it with an L or with the letter W in the English version.
(2) Cultural note: Jokes about the Portuguese are common in Brazil.
(3) Cachaça is a Brazilian liquor made from fermented sugar cane juice. It is the most popular distilled alcoholic beverage in Brazil. Visit our blog to learn how to make caipirinha, Brazil's most popular cocktail.
(4) Chico_Buarque">Chico Buarque is a Brazilian singer, guitarist, composer, dramatist, writer and poet. He comes from a family of intellectuals, artists, and politicians, and is best known for his music, which often includes social, economic, and cultural commentary on Brazil and Rio de Janeiro in particular.
Street Smart Brazil offers Portuguese classes and intercultural coaching for individuals and organizations. Learn Portuguese from anywhere in the world with our one-on-one, live webcam classes.

Contact us to request your 30-minute free demo lesson via webcam today!

The Caipirinha Appreciation Society is an English-language show offering weekly doses of Brazilian music of all styles, nicely wrapped in useful commentary about its cultural context.
Subscribe to our podcast for full immersion in the wonderful
music of Brazil!

!